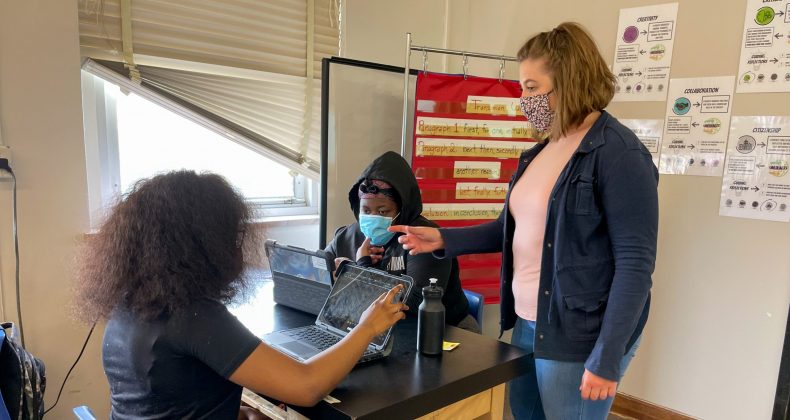 The Roosevelt Creative Corridor Business Academy (RCCBA) magnet school is Cedar Rapids Community School District's first magnet middle school. It provides three pathways that incorporate key areas of businesses today, and provides real-world learning experiences for students in sixth through eighth grades.
RCCBA students follow three main pathways of learning through the business theme:
STEAM (science, technology, engineering, arts, and mathematics)
Leadership and entrepreneurship
Global systems (communicating and problem solving around global issues)
RCCBA provides a learning environment that honors Roosevelt's vision to educate/empower/achieve, and maintains its mission to provide a rigorous and relevant curriculum that empowers all students to become creative problem-solvers and effective communicators in a diverse and dynamic world.
Leadership and entrepreneurship pathway
RCCBA will integrate all subject areas, infusing leadership in virtually everything students do. Students, teachers, and staff will utilize elements of "The 7 Habits of Highly Effective People/Teens" from The Leader in Me philosophy, which has also been adopted by the Kenwood Leadership Academy. This philosophy builds leadership skills while engaging in teaching and learning, which is a key element in project-based learning. Every student will focus on leadership and will be exposed to the behaviors and beliefs of leaders, helping them to discover their own potential.
In addition, students at RCCBA will foster growth and creativity through entrepreneurship. Students will be empowered to discover their passions while learning to be goal-setters, problem-seekers, and problem-solvers. With connections to the Iowa Creative Corridor, students will be given opportunities to work with community business partners that have similar goals and outcomes.
STEAM pathway
RCCBA's STEAM pathway provides a framework for teaching through science, technology, engineering, the arts, and mathematics. This provides a continuing pathway from the Johnson STEAM Academy, which is a kindergarten through fifth grade magnet school. All of these contexts provide an integrated approach that is hands-on, as well as a project-based way to learn Common Core standards identified by CRCSD in all content areas. Students will learn the design process and necessary employability skills necessary in the work environment. Teachers and students will interact at school and throughout the community to design innovative concepts related to their learning.
Global systems pathway
The global systems pathway provides an opportunity to celebrate Roosevelt's diverse school community. In this pathway, students will make local, state, national, and even international connections through technology and field work experiences. Students will gain a deeper understanding of the ever-changing world around them as they use their perspective of culture to enrich the Cedar Rapids community. In addition, students will be immersed in learning where the subject lines are blurred but visible, while applying their learning in a variety of ways.